Being the parents of three teenage boys we realized how quickly life was passing by.  Longing to spend more quality time with our kids and family, and less time on the road with our corporate jobs, we decided leave our safe and secure corporate positions and enter into the liquor business.  April 2015 we purchased our first store in Overland Park, Kansas.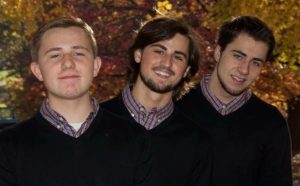 It has been a journey to say the least!  Why the liquor business you ask?  Well, simply put, we "thought" we knew a little bit about the booze.  We learned very quickly that our weekend indulgences and occasional outings were not nearly enough to be considered knowledgeable.  That said, the journey has been extremely fun and exciting.  With over 6,000 skews there is more than enough to keep us busy! We are fortunate that our venture has allowed us the quality time to spend at home with our kids and enjoy those precious years ahead.
As if one store did not keep us busy, in December 2016 we opened our second location in Shawnee, KS.  Built from the ground up we have over 8,000 Sq.ft. of space full of an outstanding wine, spirit, and beer selection.  It is our goal to become the smallest destination store in the area providing a wide selection of wines of all varietals and price ranges, an unmatched selection of spirits, and an ever-growing craft beer selection. Our business model is simple.  Customer is ALWAYS first.  Our aim is to provide an "experience" for our customers with a knowledgeable staff and outstanding customer service.
Let me introduce you to our Staff as they are the true key to our success!